What is Perodua Total Protect:
The new program provides additional benefits and long-term protection for Perodua customers. Provide full coverage of the sum assured for the first five years of age of the vehicle. "In the case of total loss or theft, customers are entitled to the full sum insured and not based on market value at the time of loss," said Perodua Sales Sdn Bhd director Dato Dr. Zahari Husin. 
Why must choose Perodua Total Protect: 
Steps for Perodua Total Protect: 
Ask for motor insurance plan/renewal 
Get covered by Perodua Total protect 
Claim Process: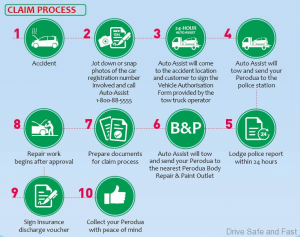 Emergency process: 
* All above is based on terms and regulations.